Cambodia, Thailand to officially open railway connection
---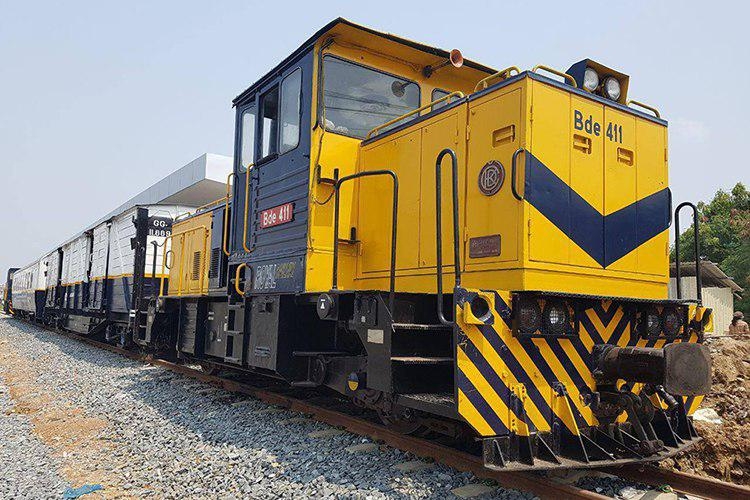 The rail lines between Cambodia and Thailand will be officially connected on April 22, increasing the facilitation of cross-border travel, logistics, and trade by rail.
H.E Sun Chanthol, Senior Minister and Minister of the Ministry of Public Works and Transport (MPWT), said that prime ministers of the two countries will attend the official inauguration ceremony which will be held on the Thai side.
He said the agreement on cross-border transportation will be signed at the ceremony while Thailand will give trains with four carriages to Cambodia.
"Prime Minister Hun Sen and Thai Prime Minister Prayut Chan O-cha will preside over the ceremony and I will also sign the agreement on the joint work for the track and then the prime ministers of the two countries will get on the train to cross the border to the Cambodia side," H.E Sun Chanthol told reporters during his inspection trip of the progress of Stung Bot bridge, in Banteay Meanchey province on 08 April.
The train with four carriages being provided by Thailand is capable of carrying 320 passengers, according to H.E Sun Chanthol.
Prime Minister Hun Sen said in a meeting on Friday at the Council of Ministers that he will preside over the inauguration ceremony of the official railroad connection.

Thailand will present a diesel-powered train to Cambodia as a symbolic gesture of cooperation between the two countries according to the Bangkok Post on 05 April, quoting Thai Minister ofTransportation Arkhom Termpittayapaisith.
"The new route is expected to facilitate travel and logistics across the Thai-Cambodian border," Mr. Arkhom said. "This will also boost economic cooperation between the two countries, which are part of the Greater Mekong Sub-region Southern Economic Corridor project that involves Myanmar, Thailand, Cambodia, and Vietnam."
The building and restoration of Cambodia's western railway were finished in August 2018 after being damaged for decades after the civil war. The western railway stretches over 386km, linking the capital Phnom Penh to Poipet city which shares a border with Sa Kaeo's Aranyaprathet district in Thailand.
Currently, the operation of Cambodia's western railway has been placed under the management of Royal Railway, a subsidiary of Royal Group, though the contract will soon go to public tender.
With the operation of the cross-border railway, the governments of the two countries expect that it will contribute to boosting bilateral trade.